---
The poster (email) is not available. 收藏推荐:
---
图书介绍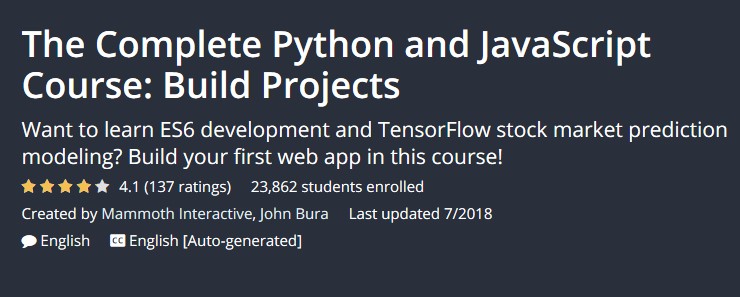 The Complete Python and JavaScript Course: Build Projects
The Complete Python and JavaScript Course: Build Projects
Want to learn ES6 development and TensorFlow stock market prediction modeling? Build your first web app in this course!
Duration: 27 hours
What Will I Learn?
• Build web apps using JavaScript ES6!
• Code in JavaScript and Python.
• Calculate linear regression in the TensorFlow framework.
• Make an app with Python that uses data to predict the stock market.
• Build impressive models with a single variable.
• Understand where to use machine learning and how to use data.
• Navigate the PyCharm integrated development environment.
• Download all source code and files from projects.
• And much more in this epic Mammoth Interactive course!
Requirements
• Modern web browser.
• PyCharm Community Edition.
• Basic HTML/CSS knowledge is helpful but not required. Enroll in "Kids Coding - Introduction to HTML, CSS and JavaScript" to learn!
• Prior coding experience is helpful. For an in-depth intro to Python, search for our "Ultimate Python Beginner Course."
• Topics involve intermediate math, so familiarity with university-level math is helpful.
Learn to Code in JavaScript and Python!
In Python & JS Masterclass: Build TensorFlow & ES6 Projects, you will learn the fundamentals of coding in JavaScript, including ES6. You will learn how to change what is displayed on a webpage using JavaScript.
No prior experience in JavaScript is required. We will explore ES6 in depth and cover many of its new features. You will learn the newest possibilities and fundamental building blocks of JavaScript.
• Get started with JavaScript basics
• Learn about ES6 and its new features
• Apply ES6 concepts in your projects
• Use build tools like Gulp and Webpack
• Compile ES6 into ES5 using Babel
• Predict the Stock Market with Automated Tasks
You will learn how to code in Python 3, calculate linear regression with TensorFlow, and make a stock market prediction app. We interweave theory with practical examples so that you learn by doing.
• Learn how to code in Python, a popular coding language used for websites like YouTube and Instagram.
• Learn TensorFlow and how to build models of linear regression.
• Build stock market prediction models for integration into apps!
Blend Theory with Hands On Coding Projects!
You will learn how to build an impressive model with a single variable. We don't go into daily stock market prediction.
Build Powerful Web Apps with ES6
With ES6 (ECMAScript 6th Edition), you can code for the web. ECMAScript is another name for JavaScript. ES6 has standardized features that JavaScript engines implement. ES6 is well-supported across different web browsers.
Become a Data Scientist Today
You too can become a web developer by learning the popular programming language JavaScript. You'll also learn hands-on Python coding, TensorFlow logistic regression, regression analysis, machine learning, and data science!
Who is the target audience?
• Anyone who wants to learn to code in JavaScript!
• Any JavaScript developers who want to learn ES6.
• Anyone who wants to build data models for short term stock market prediction!

http://nitroflare.com/view/DD1D957E955D913/Complete-Python-and-JavaScript-Course-G_P%40FB%2B.part01.rar
http://nitroflare.com/view/F91EA341FFD6DB0/Complete-Python-and-JavaScript-Course-G_P%40FB%2B.part01.rar
http://nitroflare.com/view/D7AF853D274C12D/Complete-Python-and-JavaScript-Course-G_P%40FB%2B.part02.rar
http://nitroflare.com/view/6B7C04DA16C6412/Complete-Python-and-JavaScript-Course-G_P%40FB%2B.part02.rar
http://nitroflare.com/view/838F4519A7EE8A0/Complete-Python-and-JavaScript-Course-G_P%40FB%2B.part03.rar
http://nitroflare.com/view/2946C7BC23050CC/Complete-Python-and-JavaScript-Course-G_P%40FB%2B.part03.rar
http://nitroflare.com/view/BE32C3A33CA3F45/Complete-Python-and-JavaScript-Course-G_P%40FB%2B.part04.rar
http://nitroflare.com/view/2E007EEBA9005F7/Complete-Python-and-JavaScript-Course-G_P%40FB%2B.part04.rar
http://nitroflare.com/view/3B8217CFDD07F4A/Complete-Python-and-JavaScript-Course-G_P%40FB%2B.part05.rar
http://nitroflare.com/view/289D0F8D715AC1D/Complete-Python-and-JavaScript-Course-G_P%40FB%2B.part05.rar
http://nitroflare.com/view/768DA205C935F9F/Complete-Python-and-JavaScript-Course-G_P%40FB%2B.part06.rar
http://nitroflare.com/view/137333353B1D42B/Complete-Python-and-JavaScript-Course-G_P%40FB%2B.part06.rar
http://nitroflare.com/view/7BF7EEECC13ED5E/Complete-Python-and-JavaScript-Course-G_P%40FB%2B.part07.rar
http://nitroflare.com/view/EC30E8A6BE8790F/Complete-Python-and-JavaScript-Course-G_P%40FB%2B.part07.rar
http://nitroflare.com/view/6B6BC2556449874/Complete-Python-and-JavaScript-Course-G_P%40FB%2B.part08.rar
http://nitroflare.com/view/C35F52903ACC0C7/Complete-Python-and-JavaScript-Course-G_P%40FB%2B.part08.rar
http://nitroflare.com/view/CD8CC384690483B/Complete-Python-and-JavaScript-Course-G_P%40FB%2B.part09.rar
http://nitroflare.com/view/131F46CB78949E3/Complete-Python-and-JavaScript-Course-G_P%40FB%2B.part09.rar
http://nitroflare.com/view/4857D82B9EB4C79/Complete-Python-and-JavaScript-Course-G_P%40FB%2B.part10.rar
http://nitroflare.com/view/3FDEE5B75B19A84/Complete-Python-and-JavaScript-Course-G_P%40FB%2B.part10.rar
http://nitroflare.com/view/6081D2E6A767CCF/Complete-Python-and-JavaScript-Course-G_P%40FB%2B.part11.rar
http://nitroflare.com/view/0F4BC390374B865/Complete-Python-and-JavaScript-Course-G_P%40FB%2B.part11.rar
http://nitroflare.com/view/D070A0DAD90885D/Complete-Python-and-JavaScript-Course-G_P%40FB%2B.part12.rar
http://nitroflare.com/view/3F0F408838F2BF9/Complete-Python-and-JavaScript-Course-G_P%40FB%2B.part12.rar
http://nitroflare.com/view/DE98F6933D89BF5/Complete-Python-and-JavaScript-Course-G_P%40FB%2B.part13.rar
http://nitroflare.com/view/367143B120A81CE/Complete-Python-and-JavaScript-Course-G_P%40FB%2B.part13.rar
http://nitroflare.com/view/06A53662BD4D7AF/Complete-Python-and-JavaScript-Course-G_P%40FB%2B.part14.rar
http://nitroflare.com/view/A0C8E34741F2B23/Complete-Python-and-JavaScript-Course-G_P%40FB%2B.part14.rar
http://nitroflare.com/view/DF94FB024EF8829/Complete-Python-and-JavaScript-Course-G_P%40FB%2B.part15.rar
http://nitroflare.com/view/248042059E078C7/Complete-Python-and-JavaScript-Course-G_P%40FB%2B.part15.rar
http://nitroflare.com/view/933BF427D46D192/Complete-Python-and-JavaScript-Course-G_P%40FB%2B.part16.rar
http://nitroflare.com/view/937EB1707D52924/Complete-Python-and-JavaScript-Course-G_P%40FB%2B.part16.rar
http://nitroflare.com/view/D5E6018AC88BAC0/Complete-Python-and-JavaScript-Course-G_P%40FB%2B.part17.rar
http://nitroflare.com/view/E289860E00FAD10/Complete-Python-and-JavaScript-Course-G_P%40FB%2B.part17.rar
http://nitroflare.com/view/55A44321C5973EA/Complete-Python-and-JavaScript-Course-G_P%40FB%2B.part18.rar
http://nitroflare.com/view/FB9FEDB2B16CF00/Complete-Python-and-JavaScript-Course-G_P%40FB%2B.part18.rar


http://uploadgig.com/file/download/50Ee15D1Beb264ab/Complete-Python-and-JavaScript-Course-G_PFB.part01.rar
http://uploadgig.com/file/download/19615d2c1602e9d1/Complete-Python-and-JavaScript-Course-G_PFB.part02.rar
http://uploadgig.com/file/download/ed586db6f2e7a031/Complete-Python-and-JavaScript-Course-G_PFB.part03.rar
http://uploadgig.com/file/download/9c9e5f41Ae4a0F79/Complete-Python-and-JavaScript-Course-G_PFB.part04.rar
http://uploadgig.com/file/download/B292ad4627713f74/Complete-Python-and-JavaScript-Course-G_PFB.part05.rar
http://uploadgig.com/file/download/2860c7580cdB2391/Complete-Python-and-JavaScript-Course-G_PFB.part06.rar
http://uploadgig.com/file/download/34f2A8cCd090a2a4/Complete-Python-and-JavaScript-Course-G_PFB.part07.rar
http://uploadgig.com/file/download/bc91bfc130573482/Complete-Python-and-JavaScript-Course-G_PFB.part08.rar
http://uploadgig.com/file/download/A20D345eA099bf35/Complete-Python-and-JavaScript-Course-G_PFB.part09.rar
http://uploadgig.com/file/download/8DCdaed759973dfB/Complete-Python-and-JavaScript-Course-G_PFB.part10.rar
http://uploadgig.com/file/download/fA81bb17c7fEf0e5/Complete-Python-and-JavaScript-Course-G_PFB.part11.rar
http://uploadgig.com/file/download/aD2b5dd5b8a7e0a9/Complete-Python-and-JavaScript-Course-G_PFB.part12.rar
http://uploadgig.com/file/download/e61C80faB11DfefC/Complete-Python-and-JavaScript-Course-G_PFB.part13.rar
http://uploadgig.com/file/download/92aca5D24d781B38/Complete-Python-and-JavaScript-Course-G_PFB.part14.rar
http://uploadgig.com/file/download/a95f68EDc3fc3d59/Complete-Python-and-JavaScript-Course-G_PFB.part15.rar
http://uploadgig.com/file/download/bEBf1fd9D1f4a4e3/Complete-Python-and-JavaScript-Course-G_PFB.part16.rar
http://uploadgig.com/file/download/1bd4c12174481255/Complete-Python-and-JavaScript-Course-G_PFB.part17.rar
http://uploadgig.com/file/download/B95b2C76fbfF7303/Complete-Python-and-JavaScript-Course-G_PFB.part18.rar

Extract the archives with Winrar 5 & password
Password: Golden_Plaza
[Directly Download] The Complete Python and JavaScript Course: Build Projects!
Download this book
Free download ezdownloader, then you can free download.
Download "The Complete Python and JavaScript Course: Build Projects"
使用ezdownloader下载

Copyright Disclaimer:
本站一切内容源于互联网搜索,禁止商用! 如有任何不妥请联系:admin@ebookee.com,我们将在24小时内删除相关内容。
浏览量:
0
添加时间:2018-10-04 13:36:15, 更新时间:2018-10-05 09:23:49, shared by
fubber
---
搜索该书!...
Search mirrors of
"The Complete Python and JavaScript Course: Build Projects"
...
---
下载链接
Free Magazine Subscriptions & Technical Document Downloads
推荐:使用EZdownloader下载电子书
没有下载链接
请在图书介绍里查找下载链接,如果没有,可以试着搜索有无其它该书信息。
不能下载?
如果不能下载或者在"图书介绍"中找不到
"The Complete Python and JavaScript Course: Build Projects"
的下载链接请留言。下次访问本站时察看
所有留言
看是否有人已经更新了该书。
该书可能有其它下载链接,请点
这里查询相关图书
。
---
相关链接
"The Complete Python and JavaScript Course: Build Projects" 相关链接:
---
Comments
"The Complete Python and JavaScript Course: Build Projects" 没有评论.
Leave a Comment
如果没有下载链接或者下载链接无效,请查看相关链接或者搜索相关资料。